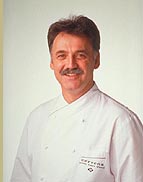 Graham Brown
Executive Chef, Cervena Company, New Zealand
Guest Chef: Graham Brown
Graham has been involved with Cervena since it inception on 1992. He regularly travels the world demonstrating the ease and consistency of New Zealand Venison. He also creates dishes that show New Zealand Venison's versatility - making it truly Venison for all seasons.
Please check back regularly as we invite Chefs who use Royal to showcase one of the dishes they have created using Royal Venison, and also share a little of their experiences with Royal Venison.
Venison Medallions with Mixed Grains and Red Wine Sauce
Serves 2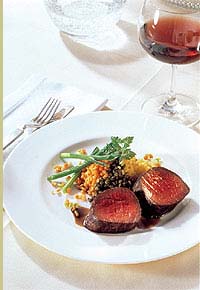 Venison medallions with mixed grains and red wine sauce
Ingredients:
2 x Venison Loin or Leg Roast Fillet
50 mls x Vegetable Oil
1 x Leek
1 x Celery Stick
2 x Carrot
1 x Onion
Cut the vegetables above into a small dice about 4mm x 4mm
1 Litre Chicken Stock
6 Scallions or Baby Leeks
50 gm Butter
3 x Grains (Black Lentils, Pearl Barley, Cous Cous, or Red Lentils)
150 mls of Red Wine
2 Shallots - Diced
Red Wine Vinegar - few drops to taste
1 Cup of Brown Stock
Cornflour
Salt and Cracked Peppercorns
Method:
Meat:
Preheat Oven to 180°C
Pat meat dry. Season with salt and cracked peppercorns.
Sear in heavy saucepan with oil until caramelised (about 5 mins)
Roast in oven for a further 6 minutes for M/R and rest for 5 minutes in warm place.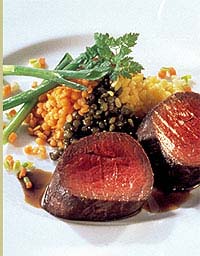 Venison medallions with mixed grains and red wine sauce
For Grains:
Cook each of the grains separately in chicken stock with seasoning for about 30 minutes. (Cous Cous will take about 3-5 minutes)
Sauté vegetables in butter until just soft add chicken stock. Keep warm. Mix vegetables in with each grain.
For Sauce:
Sauté shallots in butter until just soft add Red Wine and Red Wine Vinegar. Reduce, add brown stock and season. Thicken with Cornflour.
To Serve:
Sauté Spring Onion or Leeks in butter until just soft.
Carve Loin or Leg into Medallions.
Place 3 grains alongside meat and garnish with Red Wine Sauce and Spring Onion.