Grilled Venison Medallions with Prune and Apple Chutney and Crisp Fried Leek
Serves 2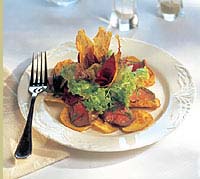 Grilled Medallions of Venison
Ingredients:
6 Medallions cut from the shortloin or leg
250mls of oil
For the Chutney:
1 large Granny Smith / apple (diced)
1 medium onion (diced)
12 prunes (pitted and halved)
1/2 teaspoon lemon zest (grated rind of lemon)
1/4 cup apple juice
1/4 cup Sherry or Wine vinegar
25gms of butter or oil
A pinch each of, Allspice, Nutmeg, fennel Seed Oil and Cumin
For the Leek Garnish:
1 large leek, white only (well washed)
500 mls of cooking oil
Salt and Pepper
Method:
Meat:
Pat medallions dry and season. Sear over a high heat in a heavy sauce pan for approximately 2 minutes each side. Reserve keep warm. Rest.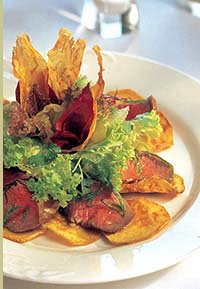 Grilled Medallions of Venison
Chutney:
Sauté onion until soft and lightly coloured.
Add apple and prunes, cool until apple is just soft.
Add all remaining ingredients and reduce by half and chutney is thickened. Chill.
Leek:
Wash leek well. Cut into long very thin strips (long matchsticks).
Heat Oil in a heavy sauce pan until moderately hot, 160°C.
Fry leeks until golden. Drain and season with salt and pepper.
To Serve:
Arrange the medallions on a plate, place a heaped spoonful of chutney in the centre and garnish with the crisp fried leek.
Serving Variation:
Stand the crisp fried leek upright in a bundle of decorative lettuce in the centre of the plate. Surround the lettuce and leek with the medallions and spoon the chutney over the medallions.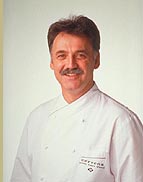 Graham Brown
Executive Chef, Cervena Company, New Zealand
Chef: Graham Brown
Graham has been involved with Cervena since it inception on 1992. He regularly travels the world demonstrating the ease and consistency of New Zealand Venison. He also creates dishes that show New Zealand Venison's versatility - making it truly Venison for all seasons.