Venison Summer Salad with Roquefort Dressing and Roasted Sunflower Seeds.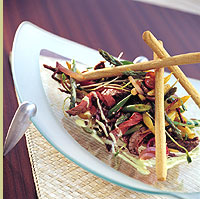 Venison Summer Salad
Ingredients:
4-500gms of Venison from the leg or loin
Salt and Pepper
Vegetables:
20 green beans (blanched and refreshed)
20 butter beans (blanched and refreshed)
20 snow peas - mangetout (blanched and refreshed)
1 bunch of asparagus tips (blanched and refreshed)
pea shoots
1 red onion (raw or roasted whole sliced)
Cherry tomatoes (yellow and red)
Nut oil
Salt and Pepper
Herbs:
Tarragon
Chives
Chervil
Italian Parsley
For the Dressing:
100gms Roquefort Cheese or Stilton Cheese
100mls Hazlenut oil or Sunflower oil
30mls Tarragon Vinegar
Salt and Pepper
1 egg yolk
1 teaspoon dijon mustard
(blend the above dressing ingredients until smooth)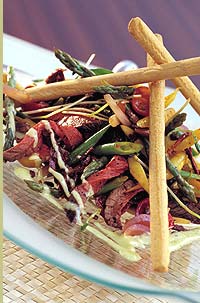 Venison Summer Salad
For the Garnish:
1/4 cup of toasted sunflower seeds
12 Grissini bread sticks
Method:
Season, sear and roast Venison for about 10 minutes. Keep Medium. Rest, cool. When cold cut into long fingers.
Cut the beans into long lozengers
Slice the sundried tomatoes into long thin strips
Slice onions into long thin matchsticks
Combine the vegetables and season with nut oil and 10 mils of tarragon vinegar, salt and pepper and the chopped herbs.
Stand for 30 minutes - keep cold
To Serve:
Combine the salad and meat and place a good mound on each plate or bowl. Dress with Roquefort dressing and garnish with toasted sunflower seeds and Grissini Bread sticks.
Chef: Graham Brown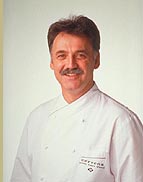 Graham Brown
Executive Chef, Cervena Company, New Zealand
Graham has been involved with Cervena since it inception on 1992. He regularly travels the world demonstrating the ease and consistency of New Zealand Venison. He also creates dishes that show New Zealand Venison's versatility - making it truly Venison for all seasons.